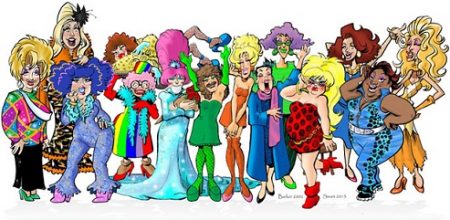 The Indy Bag Ladies is one of the oldest HIV/AIDS fundraising organizations in the country. The Bag Ladies started in 1981 when a group of friends decided to replace their annual tradition of a Halloween party with a Bus Tour to bars and restaurants in Indianapolis to raise money for patients who had been diagnosed with a new disease (HIV/AIDS).
The Bag Ladies continue to raise money for the Gregory R. Powers Direct Emergency Financial Assistance (DEFA) Fund in addition to raising funds for other non-profit organizations (e.g. Step Up, Inc, Indiana Youth Group, Damien Center, American Heart Association, Cystic Fibrosis). From that humble beginning, the Bag Ladies have grown into a fund-raising force in central Indiana performing in their own annual shows like "Shimmering Shamrocks," "Cadillac Barbie's Disco Brunch," "The Stockings Were Hung…" and "Sequoia Pentecost & Rachel Yoder's Country & Gospel Brunch" and making appearances at other events to help raise money for local organizations. The Bus Tour is still an annual tradition around Halloween, and it is open to anyone who wants to be a Bag Lady for a day!
More information about the Indy Bag Ladies can be found here.
If you would like to support the work of the Bag Ladies, please DONATE here.