The Indiana Falcons were founded on Aug. 2, 2000 as a men's fraternal organization. Thus, began an organization that has experienced many members move through the organization with many moving beyond our reach, but always in our hearts and minds. This is a club of like-minded individuals seeking to better themselves and the community. For those that have moved on, you will always be with us in spirit. For those of you seeking a leather orientated organization, we will open our hearts and minds to you as long as you do the same.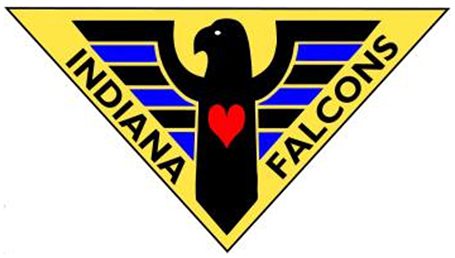 In July 2018, the full membership voted unanimously to open membership to anyone age 21 or older who wanted to join regardless of gender and/or gender identity. The Indiana Falcons are comprised of individuals having common characters and various attributes including; an interest in the Leather Community, honesty, education, community service and discretion.
Along with annual dues, the proceeds from two fundraisers bring in the funds for all our administrative and overhead costs (including but not limited to: participation in the Indiana Gay Pride Parade, promotion of events, publicity and Leather Competition Travel funds for local contestants competing at a Regional or National level). Indiana Falcons partnered with The Health Foundation of Greater Indianapolis and the Indiana AIDS Fund in 2019 to assist with administrative activities and to assist with fundraising. If you would like to support the work of the Indiana Falcons, and their July 2nd, 2022 USOh show, please click here to donate.